di Naike Cogliati
Morbida, porosa e catalizzante, la spugna Nanotech è una materia plastica sintetica, espansa, elastica e flessibile, che ha l'eccezionale capacità di assorbire gli oli dispersi nell'acqua.
Una spugna, dunque, che può risolvere il grave problema della contaminazione dei mari per effetto dei trasporti su acqua e degli incidenti petroliferi.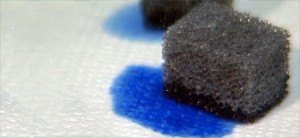 E' l'ultima scoperta del Center for Biomolecular Nanotechnologies (CBN) dell'Istituto Italiano di Tecnologia di Lecce.
La rivista dell'American Chemical Society ACSNano in un articolo intitolato "Magnetically driven floating foams for the removal of oil contaminants from water" ha spiegato il funzionamento di questo soffice e particolare materiale, permeabile all'aria e manovrabile attraverso i campi magnetici.
Il segreto dell'unicità di questa spugna sta nel trattamento con nanoparticelle di ossido di ferro e di Teflon.
Gli ossidi metallici le conferiscono proprietà magnetiche, mentre il Teflon le proprietà superidrofobiche e superoleofile, che permettono di assorbire gli oli presenti nell'acqua ma non quest'ultima.
La struttura cellulare, fatta di migliaia di tubi microscopici e interconnessi, permette di assorbire e immagazzinare l'olio al solo contatto.
La spugna può gonfiarsi e trattenerne oli addirittura fino a quantità equivalenti a tredici volte il suo peso.
L'ultimo suo potere consiste nella resistenza al fuoco, il che significa che una volta che l'olio è nella spugna lo si può bruciare rapidamente e riutilizzare la stessa per ripetere il processo.
La chiave del successo di materiali come la spugna Nanotech sta nell'integrazione di nanotecnologie in materiali già conosciuti, facili da produrre e relativamente economici, ma che con nuove performance si prestano a nuovi utilizzi, tanti quanti ne possiamo immaginare per risolvere i problemi più seri del nostro pianeta.